Workshop / activiteit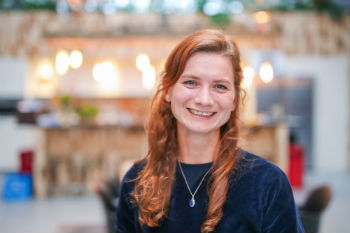 Bekijk Linked-In pagina
Kyriël van der Sloot
I'm Kyriël van der Sloot and I work as a Sustainable Travel Expert at Riksja Travel. I studied Cultural Anthropology and did a master in Latin American and Caribbean Studies.  I graduated with honours in 2010 and started working at Riksja Travel.
I believe traveling can better the world, as long as it is done in a responsible and respectable way. Cultural encounters and the blurring of borders enriches people. Sadly traveling also comes with downsides. It is therefore my challenge to apply innovative projects to minimize the negative impact of travel and maximize the positive impact. Because of this, I am constantly looking for ways in which Riksja Travel and myself can contribute to a more beautiful world.
For example, to create more awareness and inspire travelers, colleagues and other (travel) organizations and myself traveled to India with Riksja's Impact team in late December 2018. We saw the social impact of the various sustainability projects supported by Riksja here firsthand. This resulted in a documentary series of three mini-docus. In our first mini-docu 'Surviving the smoke' for example: https://youtu.be/7DI1-0AStXs, we look at the social impact that can be achieved through carbon offsetting.
Since working at Riksja Travel, I have worked on several sustainability projects. For example, all trips booked with Riksja are 100% carbon offset (both flight and country arrangement). This amounts to about 35,000 tons of CO2 compensation each year.
Because of my work at Riksja Travel, I was chosen as one of the 'duurzame jonge 100' (DJ100) of 2019. This is a list of young entrepreneurs, young professionals and students all below the age of 32 who show that a sustainable future is possible. The DJ100 is not a ranking, but a selection of people who show that sustainability is achievable.